Living Design Magazine ~ Building Blocks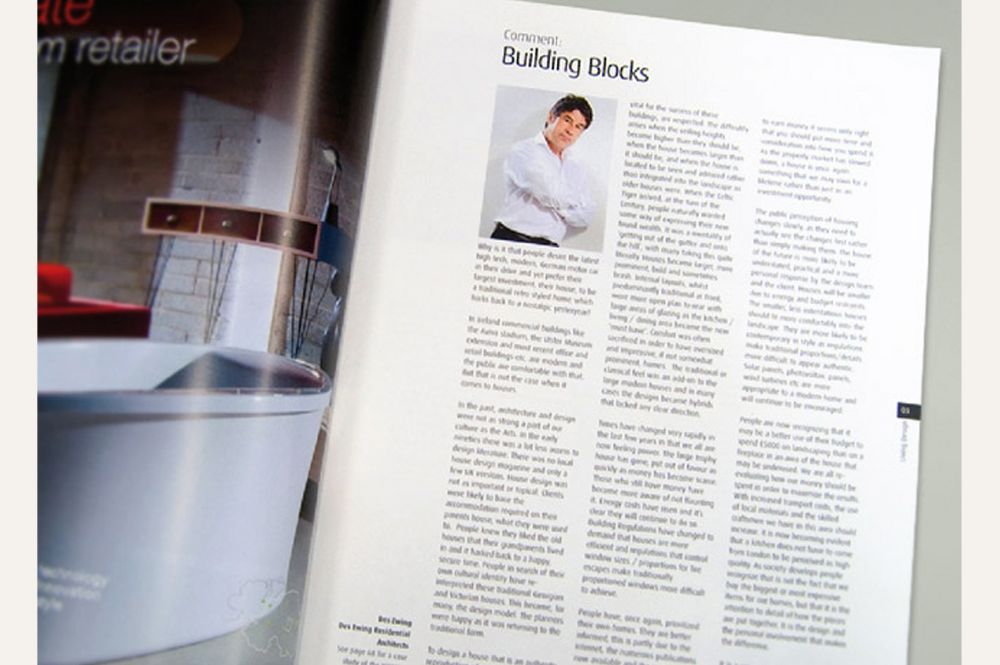 Living Design Magazine ~ Building Blocks
Comment: by Des Ewing


Why is it that people desire the latest high tech, modern, German motor car in their drive and yet prefer their largest investment, their house, to be a traditional retro styled home which harks back to a nostalgic yesteryear?

In Ireland commercial buildings like the Aviva stadium, the Ulster Museum extension and most recent office and retail buildings etc. are modern and the public are comfortable with that. But that is not the case when it comes to houses.

In the past, architecture and design were not as strong a part of our culture as the Arts. In the early nineties there was a lot less access to design literature. There was no local house design magazine and only a few UK versions. House design was not as important or topical. Clients were likely to base the accommodation required on their parents house, what they were used to. People knew they liked the old houses that their grandparents lived in and it harked back to a happy, secure time. People in search of their own cultural identity have re-interpreted these traditional Georgian and Victorian houses. This became, for many, the design model. The planners were happy as it was returning to the traditional form.

To design a house that is an authentic reproduction of a traditional dwelling is achievable and a perfectively fine thing to do when the proportions, texture and siting, features which are vital for the success of these buildings, are respected. The difficultly arises when the ceiling heights become higher than they should be, when the house becomes larger than it should be, and when the house is located to be seen and admired rather than integrated into the landscape as older houses were. When the Celtic Tiger arrived, at the turn of the Century, people naturally wanted some way of expressing their new found wealth. It was a mentality of 'getting out of the gutter and onto the hill', with many taking this quite literally. Houses became larger, more prominent, bold and sometimes brash. Internal layouts, whilst predominantly traditional at front, were more open plan to rear with large areas of glazing as the kitchen / living / dining area became the new 'must have'. Comfort was often sacrificed in order to have oversized and impressive, if not somewhat prominent, homes. The traditional or classical feel was an add-on to the large modern houses and in many cases the designs became hybrids that lacked any clear direction.

Times have changed very rapidly in the last few years in that we all are now feeling poorer. The large trophy house has gone, put out of favour as quickly as money has become scarce. Those who still have money have become more aware of not flaunting it. Energy costs have risen and it's clear they will continue to do so. Building Regulations have changed to demand that houses are more efficient and regulations that control window sizes / proportions for fire escapes make traditionally proportioned windows more difficult to achieve.

People have, once again, prioritized their own homes. They are better informed, this is partly due to the internet, the numerous publications now available and the many specialized TV programmes. They are not rushing the process of designing and building a house. There is now, it appears, more time. This is how it should be; as it now takes more time to earn money it seems only right that you should put more time and consideration into how you spend it. As the property market has slowed down, a house is once again something that we may own for a lifetime rather than just as an investment opportunity.

The public perception of housing changes slowly, as they need to actually see the changes first rather than make simply making them. The house of the future is more likely to be understated, practical and a more personal response by the design team and the client. Houses will be smaller due to energy and budget restraints. The smaller, less ostentatious houses should fit more comfortably into the landscape. They are more likely to be contemporary in style as regulations make traditional proportions/details more difficult to appear authentic. Solar panels, photovoltaic panels, wind turbines etc are more appropriate to a modern home and will continue to be encouraged.

People are now recognizing that it may be a better use of their budget to spend £5000 on landscaping than on a fireplace in an area of the house that may be underused. We are all re-evaluating how our money should be spent in order to maximize the results. With increased transport costs, the use of local materials and the skilled craftsmen we have in this area should increase. It is now becoming evident that a kitchen does not have to come from London to be perceived as high quality. As society develops people recognize that is not the fact that we buy the biggest or most expensive items for our homes, but that it is the attention to detail of how the pieces are put together. It is the design and the personal involvement that makes the difference.

It is a very exciting time for architects and designers. The limitations placed on us will force and allow us to create houses that reflect the many lessons that have been learnt over the years, as well as the changing needs of society and the planet.