Ireland's Homes Interiors & Living Magazine – 'Meant to be'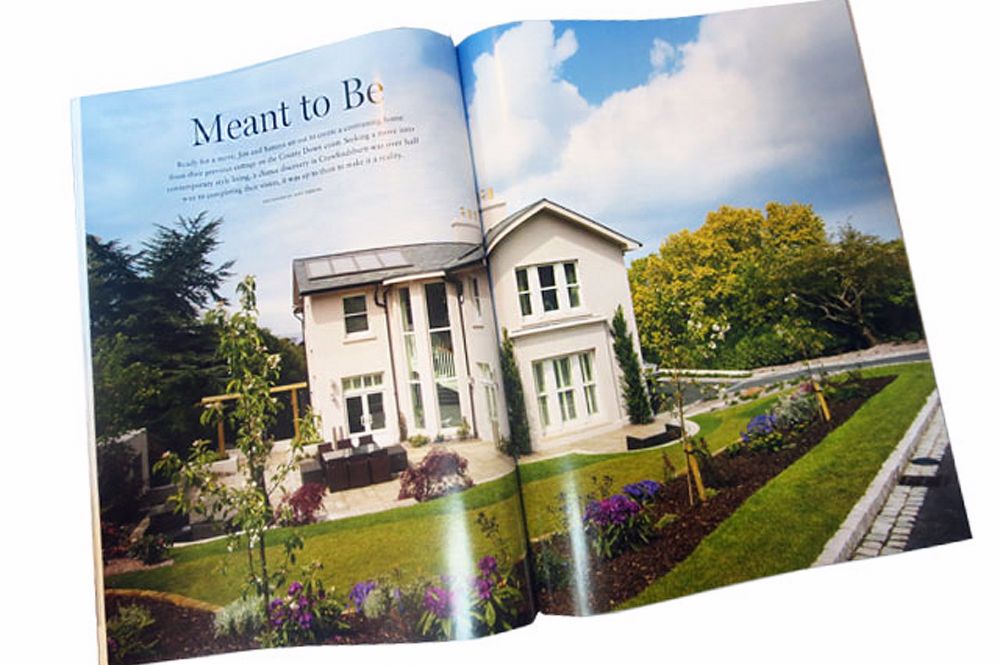 Ireland's Homes Interiors & Living Magazine – 'Meant to be'
Ready for a move, Jim and Samina set out to create a contrasting home from their previous cottage on the County Down coast. Seeking a move into contemporary style living, a chance discovery in Crawfordsburn was over half way to completing their vision, it was up to them to make it a reality.

The architecture of the new house was based on a style familiar to the Regent's Park area of London. Layout wise, the couple wanted to relocate the originally planned garage, and link the basement to the house. Des was helpful with his advice, and then for the design of the final product they worked with Philip Parker. "We are delighted with the work of both architects. We think people should do this more often, mixing the great brains!" The couple then asked the builders of the initial structure, Roskyle, to complete the task. "We worked on the theory that they knew where the last nail was put in! They were fantastic indeed, and have around them great, hardworking, appropriately proud, honest craftsmen who saw the job through.

A striking and wonderfully elegant form, the house echoes the inspiration of that luxurious part of London it set out to. But perhaps the intangible beauty is that it is a very green house with thick walls, and this twinned with a fantastic heating system means a dramatic cut in energy outgoings.

But aesthetically and functionally, what were the main objectives for Samina? "Light, space, contemporary living and a canvas for the pieces and art we had accumulated during our lives together so far. It is quite an indulgent house. It is built and designed for us. Although there is one very attractive guest suite, and other guests can be accommodated, we have very few areas not used on a regular fashion. We both have a love of South Africa and Asia, and so many of the features and decor are inspired from those countries. We worked closely with Lindy Clarke and her team. They were super in many ways. After very few meetings they were able to grab and translate out imagination, the colours and the fabric in particular."