Homefinder: Belfast Telegraph - Iceberg Cool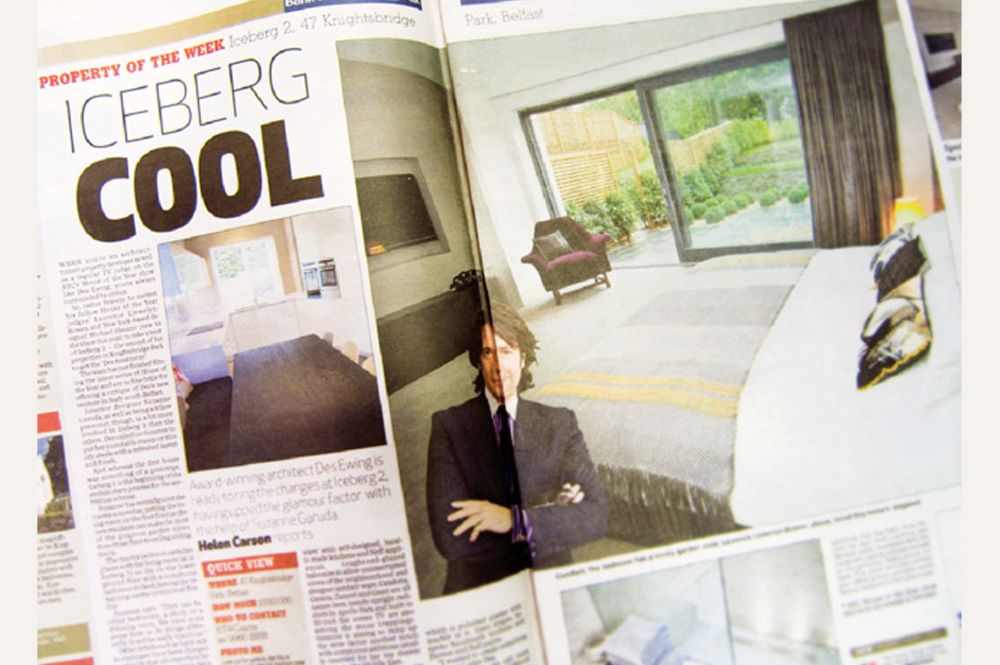 Homefinder: Belfast Telegraph - Iceberg Cool
When you're an architect-turned-property developer as well as a regular TV judge on the BBC's House of the Year show like Des Ewing, you're always surrounded by critics.
So, rather bravely, he invited his fellow House of The Year judges' Laurence Llewelyn-Bowen and New York based designer Michael Tavano (new to the show this year) to take a tour of Iceberg II – the second of his properties in Knightsbridge Park to get the 'Des treatment'.
The team has just finished filming the latest series of House of the Year and are in fine fettle for offering a critique of Des' new venture in leafy south Belfast.
And whereas the first house was something of a prototype, Iceberg II is the beginning of the evolutionary process for the ambitious scheme.

Laurence describes the architecture as 'elegant', nodding appreciatively at the new layout. Although he is not best pleased with Des' decision to use Farrow and Ball paints: "I can't believe you're not using my range", he jokes (it's available at B&Q by the way).
Both Laurence and Michael seem impressed with the house and, having just seen the best in the province, that's praise indeed.