Homebuilding & Renovating – A contemporary extension transforms a 1930s home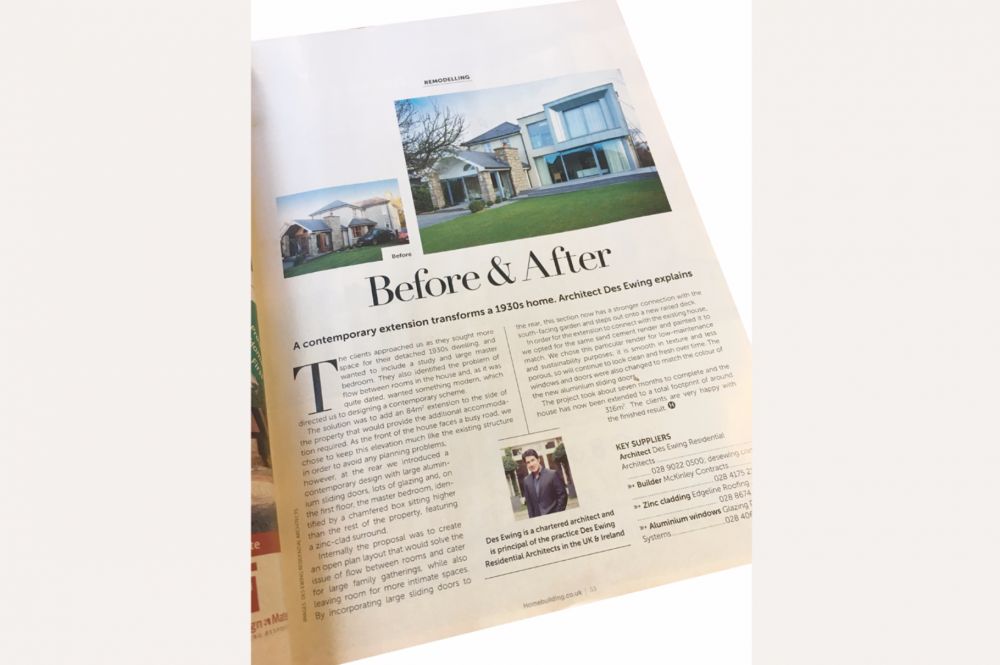 Homebuilding & Renovating – A contemporary extension transforms a 1930s home
The clients approached us as they sought more space for their detached 1930s dwelling, and wanted to include a study and large master bedroom. They also identified the problem of flow between rooms in the house and, as it was quite dated, wanted something modern, which directed us to designing a contemporary scheme.
The solution was to add an 84m2 extension to the side of the property that would provide the additional accommodation required. As the front of the house faces a busy road, we chose to keep this elevation much like the existing structure in order to avoid any planning problems; however, at the rear we introduced a contemporary design with large aluminium sliding doors, lots of glazing and, on the first floor, the master bedroom, identified by a chamfered box sitting higher than the rest of the property, featuring a zinc-clad surround.
Internally the proposal was to create an open plan layout that would solve the issue of flow between rooms and cater for large family gatherings, while also leaving room for more intimate spaces. By incorporating large sliding doors to the rear, this section now has a stronger connection with the south-facing garden and steps out onto a new raised deck.
In order for the extension to connect with the existing house, we opted for the same sand cement render and painted it to match. We chose this particular render for low-maintenance and sustainability purposes; it is smooth in texture and less porous, so will continue to look clean and fresh over time. The windows and doors were also changed to match the colour of the new aluminium sliding doors.
The project took about seven months to complete and the house has now been extended to a total footprint of around 316m2. The clients are very happy with the finished result.