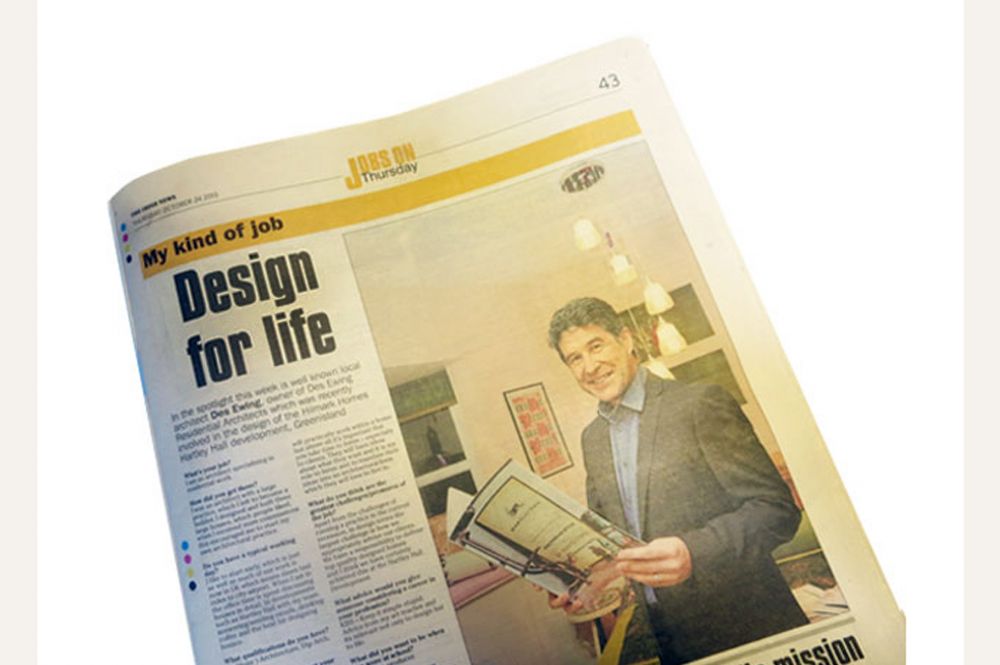 "Design for life"
In the spotlight this week is well known local architect Des Ewing, owner of Des Ewing Residential Architects which was recently involved in the design of the Hilmark Homes Hartley Hall development, Greenisland.


What's your job?
I am an architect specialising in residential work.

How did you get there?
I was an architect with a large practice, which I left to become a builder. I designed and built three large houses, which people liked, when I recieved more commissions this encouraged me to start my own architectural practice.

Do you have a typical working day?
I like to start early, which is just as well as much of our work is now in UK which means dawn taxi rides to the airport. When I am in the office time is spent discussing houses in detail, in developments such as Hartley Hall with my team, answering/sending emails, drinking coffee and the best bit - designing houses.

What qualifications do you have?
Ba (Hons) Architecture, Dip Arch, RIBA.

What's the best thing about your job?
Sometimes I can't believe that I have a job with entails walking around beautiful homes in beautiful areas having discussions about what makes people happy.

And the worst?
The inevitable paperwork.

What other skills do you need in your role?
You need a whole range of skills from creativity to knowing what will practically work within a home but above all it's important that you take time to listen-especially to clients. They will have ideas about what they want and it is my role to listen and to translate their ideas into an architectural form which they will love to live in.

What do you think are the greatest challenges/pressures of the job?
Apart from the challenges of running a practice in the current recession, in design terms the largest challenge is how we appropriatley advise our clients. We have a responsibility to deliever top quality designed homes and I think we have certainly achieved this at the Hartley Hall Development.

What advice would you give someone considering a career in your profession?
KISS-Keep It Simple Stupi. Advice from my art teacher and its relevant not only to design but to life.

What did you want to be when you were at school?
Television producer.

What's the most common question people ask when they find out what you do?
What do you think is going to happen to house prices?

How do you like to relax outside work?
Cycling/football/anything outside and my family.